This feature was introduced with the update of Nov. 18, 2010.
The Change button is the ying-yang symbol on the left in the lower right of the Legend interface (the Legend interface has changed with various updates).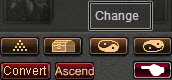 Clicking on it will bring up a window which gives a list of items that can be obtained from opening the treasure item that you will receive by sacrificing the legend. The text and content of this window and its subsequent pages will vary based upon the level of the legend you are sacrificing. The example below is for Ash which is the lowest level of sacrifice. See at bottom of page for Refinery page headings for each type of sacrifice.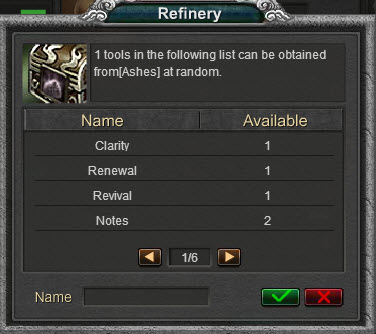 The legend must have no troops, equipment, mounts, or artefacts assigned to enable this window to open. To confirm the sacrifice, you must type your character name in the "Name" field at the bottom of the window (see image above), exactly as it appears in-game, then click the checkmark button.


Clicking the checkmark in this panel then presents:


You will receive an item in your inventory under the Treasure tab (as defined below). Tools - as mentioned in these screens - is the number of items received at random after opening the relevant Treasure Chest. The content varies, so refer to the Treasure Chest's page for possible rewards.
Ad blocker interference detected!
Wikia is a free-to-use site that makes money from advertising. We have a modified experience for viewers using ad blockers

Wikia is not accessible if you've made further modifications. Remove the custom ad blocker rule(s) and the page will load as expected.