This article is about the legend. For an item, see H. Feihu (item).
Huang Feihu


黄飞虎

Gender
Male
Order
Warrior
Title
Tian Qi Ren Sheng Emperor
Ability

40

FengShen Tower Talent
Dr Huang's gur...? (Attack power is increased by 5%, and physical defense strength is increased by 3%)

---

Base Life
450
Base Mana
155
Obtained at Level

Unknown

---

Base CA
175
Base MA
100
Base Def.
119
Base Crg.
30
Base Mag.
5
Base Strt.
25

---

Legend type
Task
Unlock task
March to Kunlur
Unlock item
Feihu Token
Huang Feihu is a famous warrior and is a general in Shang Dynasty. He has 40 ability points, and is first encountered in the Legends task Migration. The Holy Eye artefact is exclusive to Huang Feihu.
He can be found on floor 12 of a Special Paradise but cannot be captured this way.
Mythology
Edit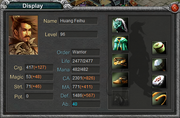 Huang Feihu is a major character in the famed ancient Chinese novel Fengshen Yanyi. He is the son of Huang Gun, and is renowned as the highest ranked general of the entire Shang Dynasty.
Items and requirements
Edit
To obtain this legend, the following items and requirements required:
Items
Required items obtained as rewards
Requirements
Ad blocker interference detected!
Wikia is a free-to-use site that makes money from advertising. We have a modified experience for viewers using ad blockers

Wikia is not accessible if you've made further modifications. Remove the custom ad blocker rule(s) and the page will load as expected.