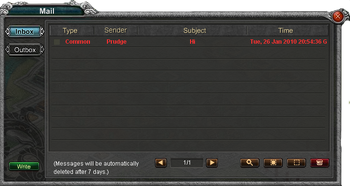 Mail is a feature in War of Legends which allows players to send messages to other players at no cost. If the player is a ranked member in an alliance, they may mail the entire alliance for a cost of 2 horns per mail. Incoming and outgoing mail are placed in the inbox and outbox, respectively. Messages are automatically deleted in 7 days from the time they were sent or received.
Sending messages
Edit
In the bottom left of the mail interface, there is a green "Write" button which may be used to send a message. Clicking the button opens another interface where players may type the username and the content of the message. (Note that players can use the copy and paste method while composing the mail.)

There are alternatives to message others without typing in their usernames. These include:
Ad blocker interference detected!
Wikia is a free-to-use site that makes money from advertising. We have a modified experience for viewers using ad blockers

Wikia is not accessible if you've made further modifications. Remove the custom ad blocker rule(s) and the page will load as expected.