The ruler's menu can be found on the top right. It is next to your
inventory
,
tasks menu
and
rank list
.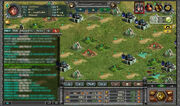 A window opens that should look similar to the one below: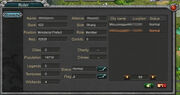 Name: Your user name.
Position: Your current position approved by the Jade Emperor.
Rep.: The amount of reputation you've acquired.
Alliance: Displays what alliance you are in.
Role: Your role in the alliance.
Cities: The amount of cities you control (capital and sub-cities).
Population: The total amount of population in all your cities together.
Legends: The total amount of legends of all your cities.
Territories: The amount of enslaved cities.
Wildlands: The number of occupied wildlands.
Charity: Information missing
Crimes: Information missing
Status: Your status - can be set to peace mode for 12 hours using a parley OR can be set to vacation mode for an unlimited time at the cost of 40 WoLCash per 48 hours.
Flag: Change the symbol that appears on your flag. Can only be the length of one character/symbol. Requires the city flag item.
Ad blocker interference detected!
Wikia is a free-to-use site that makes money from advertising. We have a modified experience for viewers using ad blockers

Wikia is not accessible if you've made further modifications. Remove the custom ad blocker rule(s) and the page will load as expected.