The shop is found on the bottom right of the game window. There, you can buy a great variety of ingame items but you will need to pay using Vouchers or WoLCash. Not all items can be bought with Vouchers, but all can be bought using WoLCash.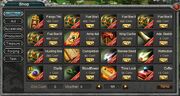 Sometimes the shop has special offers, offering items for a lower price of WoLCash, but vouchers may not be used for any discounted price.
Buying items
Edit
To buy an item, simply click the buy (

) button next to your wanted item.
A popup-window, like the following, will appear: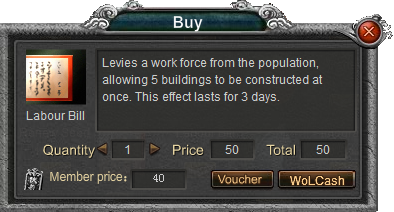 You now have the ability to increase the Quantity (and with that the price).
To finish the transaction press the

or

button. The price is equal for both methods of paying with one exception: Special offers only affect the WoLCash price, i.e. an item on offer for 1 WoLCash will still cost the original amount of vouchers.
If there is no Voucher button, you can only buy this item using WoLCash. WoLCash are obtained by payment methods through PayPal and other means.
Selling items
Edit
You can sell items by going to your inventory, left-clicking on an item, and pressing

. It will then show you the price the item can be sold for (notice it is in gold, not in WoLCash or Vouchers) and you have the possibility to accept or deny the deal.
Note: This is different from the market, as items sold this way will be removed from the game. As of the update 1.4.1., you can now sell items(except task related items), armor(needs to be opened from the chest/box it came from and not be bound), legends, and artefacts.
Ad blocker interference detected!
Wikia is a free-to-use site that makes money from advertising. We have a modified experience for viewers using ad blockers

Wikia is not accessible if you've made further modifications. Remove the custom ad blocker rule(s) and the page will load as expected.