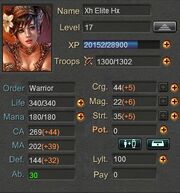 Warriors are one of the orders for legends. Warriors are masters of courage as they are defined by their attack power and strength in battles. They may not command the largest armies, but their troops are the deadliest.
When assigned as the governor of a city, warriors will increase troop recruitment speed. Troops in the garrison are trained faster.
Ad blocker interference detected!
Wikia is a free-to-use site that makes money from advertising. We have a modified experience for viewers using ad blockers

Wikia is not accessible if you've made further modifications. Remove the custom ad blocker rule(s) and the page will load as expected.